What's our synthetic paper made of?
According to Dave Jeffers the technical service manager for the manufacturing plant, It's made from the extrusion of melted plastic—like polypropylene or polyolefin resin—synthetic papers are completely inorganic. He also states that there are no ozone-threatening emissions from production, and nearly no waste by-products. Synthetic paper is 100-percent recyclable.
Recycled polypropylene plastic, for example, is recovered as plastic resin and may be used in food containers, yarns and fabrics, upholstery, luggage and car seats. The recovered resin demonstrates the same performance as virgin plastics. Polyolefin can be recycled along with other plastic packaging materials and does not need to be separated.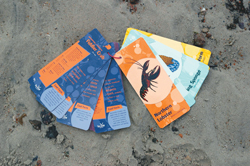 And because the paper is also durable and waterproof, it makes it ideal for projects like the Woods Hole Oceanographic Institution's Beachcomber's Companion, published by Woods Hole Sea Grant. The 50 flash cards boast beautiful illustrations of marine invertebrates, as well as cool scientific facts and a reusable checklist so explorers can check off the invertebrates they meet on the beach with a wax pencil, then wash it off and reuse it for the next trip.